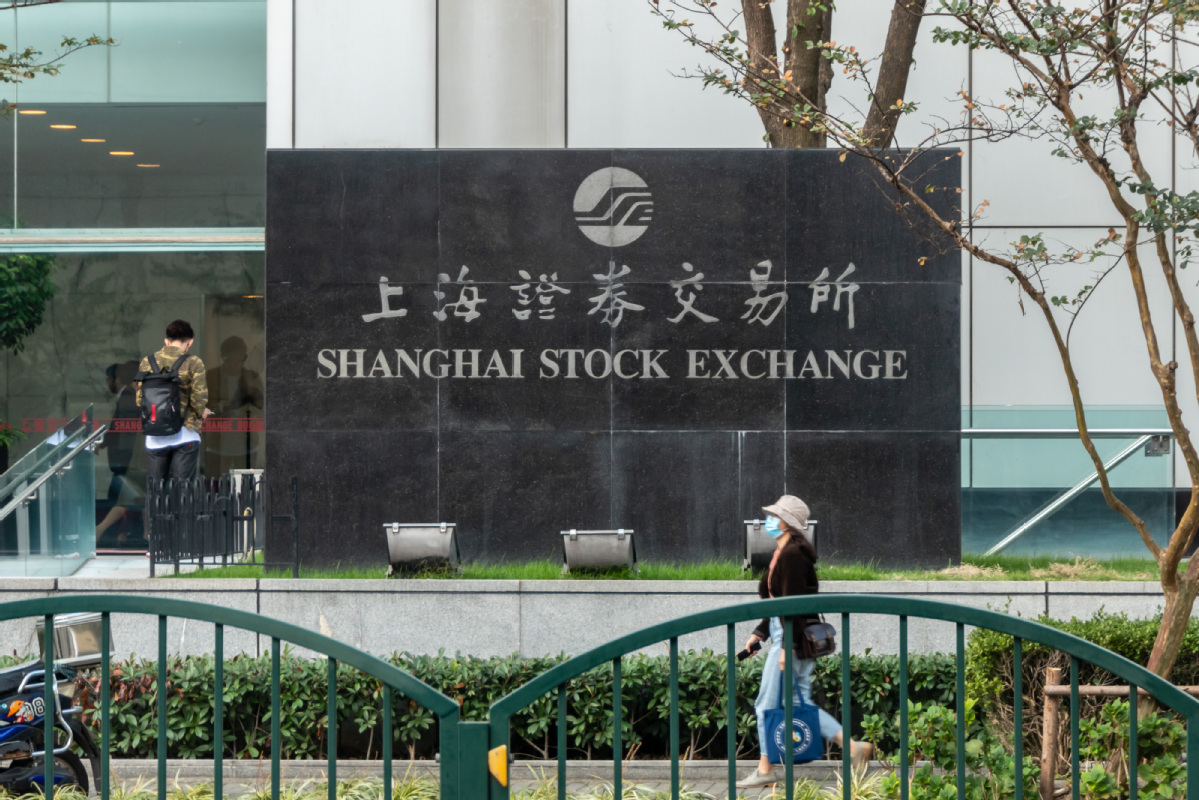 Last year, a total of 233 companies listed on the Shanghai Stock Exchange, ranking first in the number of IPOs in the world, The Paper reported.
According to a report released by the Shanghai Stock Exchange on June 4, in 2020, 233 companies debuted on the bourse, raising 347.7 billion yuan ($54.38 billion), both registering 89 percent growth in the number of IPOs and the amount of funds raised from the previous year.
Among them, 145 companies were listed on the Shanghai Stock Exchange's sci-tech innovation board, commonly known as the STAR market, raising 222.6 billion yuan, soaring 107 percent and 170 percent year-on-year, respectively. A total of 88 companies were listed on the main board, raising 125.1 billion yuan, jumping 66 and 23 percent from the previous year.
Among the 2020 annual ranking of the World Federation of Exchanges, a global industry group for exchanges, the number of IPOs and the amount of funds raised from the Shanghai Stock Exchange both ranked first, becoming a representative of global emerging capital markets.
Last year, the bourse actively implemented innovation-driven development strategy, published a three-year action plan and unveiled 39 measures to improve the quality of companies listed on the Shanghai Stock Exchange.
In 2020, 60 listed companies completed major assets restructuring, with total transaction amount of 250 billion yuan, among which sci-tech innovation industries, such as bio-pharmaceutical, high-end equipment manufacturing and electronic information technology saw their transaction amount top 80 billion yuan, accounting for 32 percent of the total.
Meanwhile, the Shanghai Stock Exchange continued to deepen its supervision innovation, highlighting the demonstration and promotion effect of on-site supervision.
Last year, the bourse carried out on-site supervision of sponsor business for 23 companies planned to listed on the sci-tech innovation board, and 20 companies withdrew their IPO applications.
In terms of green finance, the bourse actively supported green enterprises to float via an initial public offering. Last year, four companies involving new energy, energy conservation and environmental protection listed on the main board and raised 6.32 billion yuan, while 19 companies on the sci-tech innovation board raised 20.67 billion yuan.
The bourse also promoted industry transformation and upgrading to energy conservation, emission reduction, low carbon and environmental protection, the report said.
The Shanghai Stock Exchange put more efforts into development the green bond market, increase types of green investment, and unveil new green index and exchange traded funds/listed open-ended funds products.
Log in to your account so that you can subscribe to topics you're interested in!
Login
BridgeAfrique Magazine is published by our Company, BridgeAfrique Publishing Company Limited, an outfit that is incorporated in China and HKG with regional offices all over Africa, USA, UK, Netherlands, Japan, Manila, CEBU-Philippines, Australia, Indonesia, Dubai, and Qatar. The number of copies produced and circulated quarterly ranges between 30-50,000 while we encourage more productions (Hard copies) anytime the need arises from any of our regional offices. We are currently in official Partnership with your Esteemed Airline Ethiopia Airlines, TED Training Experts Worldwide, African Chamber of Commerce (AFCHAM), African Business Chamber (ABC), Black Chamber of  Commerce (BCC) and Afriscaper owned by Messrs Omololu Consulting, ADRON Homes and Properties Worldwide, Diaspora Associations, Asia and beyond, KAM HOLDING, REJOG4, BRAEPIC, MD Entertainment Limited among others so our production number is expected to quadruple from the Next Edition that will be translated into English, Chinese and French, hence, 3-in-1! The Main Country of focus for the next edition is the Benin Republic but we shall touch other countries with a special Supplement for Ethiopia Airline Group: The All-time Africa's best.