Yao woman turns local produce into treasure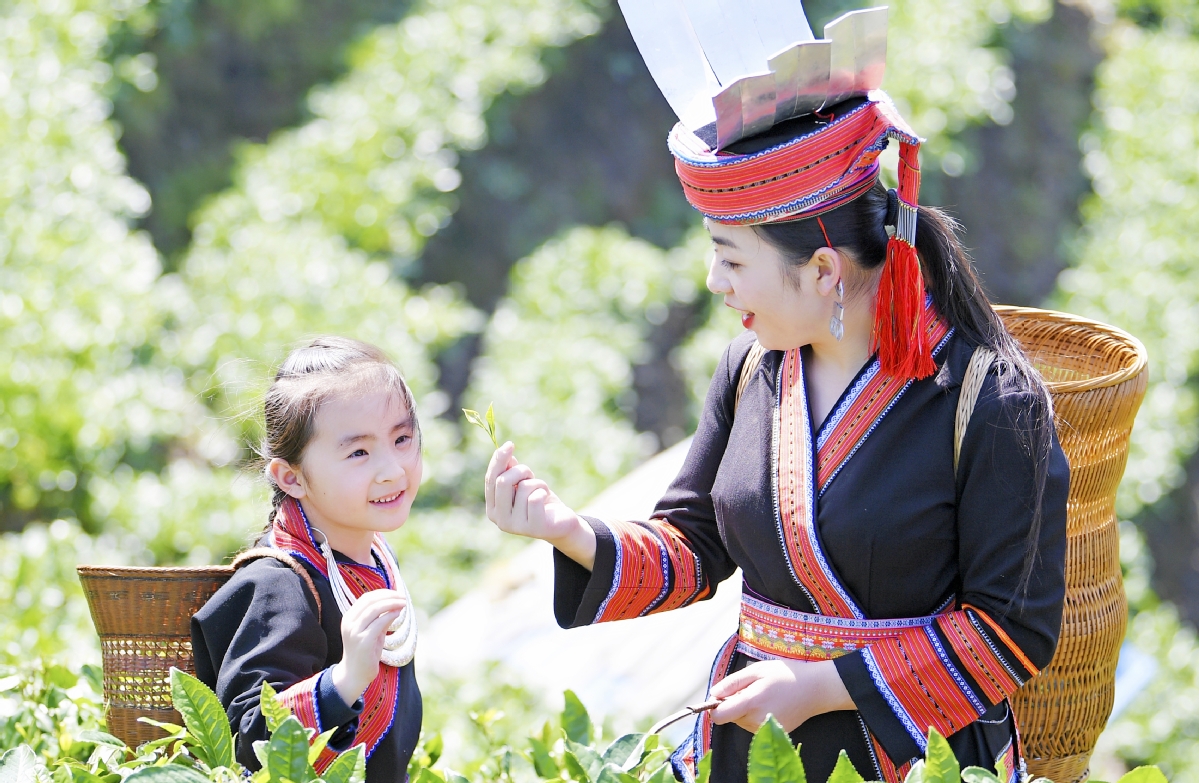 Wang Yungui still gets excited when she thinks of her trip to Beijing in October to receive a national award for her poverty alleviation efforts.
The 29-year-old traveled to the capital from her home in Liuduan village in Jinxiu Yao autonomous county, Guangxi Zhuang autonomous region, two days before the ceremony, during which 99 individuals were recognized for their contribution to the improvement of local living conditions.
During her stay in Beijing, she met Wang Yang, a member of the Standing Committee of the Political Bureau of the Communist Party of China Central Committee and chairman of the Chinese People's Political Consultative Conference National Committee.
Wang Yang praised Wang Yungui for returning home and establishing a business that helped rural tourism develop in her area.
"It was an exciting and encouraging moment," she said.
After graduating from college in 2013, Wang Yungui landed a ground service job at Nanjing Lukou International Airport in Jiangsu province.
She was soon overwhelmed by feelings of nostalgia.
"Watching the planes taking off and landing one after another every day, I found myself missing my hometown even more," she said.
Memories of her ancient Yao ethnic village, the stilted wooden houses of the Miao people, and local folk songs often played through her dreams.
At the end of 2014, Wang made a bold decision to quit her job and go back to the mountain area where she was raised.
When she returned to Liuduan in 2015, more than 580 people in 152 households were still classified as impoverished by local authorities. Her family was among them.
Wang had studied e-commerce in college and came up with the idea of selling local produce online.
"There are so many good things at home that aren't known to outsiders," she said.
She wasted no time applying for a loan, which she used to open a local specialty shop on her Taobao and WeChat accounts.
At the beginning, villagers didn't trust Wang to sell their produce, so she went door to door, talking to them in person and collecting their produce, which she later sorted, packaged and photographed, before displaying it online.
The first person she helped, Su Jige, sold herbal medicines and dried bamboo shoots and brought in 2,000 yuan ($310) in 2017. Su expressed her gratitude by sending Wang food she'd grown herself.
Soon, word spread. More villagers began to knock on Wang's door, entrusting her with their farm produce, local specialties and folk art items, including bamboo weavings, embroideries and root carvings.
These delicacies from deep in the mountains soon enjoyed brisk sales online, and it took just a year for Wang's family to raise themselves from poverty.
Wang's initial success won her online shop more support from the local government for marketing and promotion. As a result, the range of goods she sold expanded, from bamboo shoots and Chinese herbal medicine, to cured meat and honey. She also tried to increase the added value of the products.
Liuduan sits on a high mountain at an altitude of 1,200 meters. For generations, the Yao have cultivated a 200-hectare terraced tea garden on the hillside. Tea is the area's main economic crop, but the villagers didn't deep process the leaves, so it never became a brand, and didn't contribute to raising local incomes.
Wang began to post photos of the tea terraces and looked into her mother's tea making techniques. In 2016, she set up a tea processing plant with an annual capacity of 1,500 kilograms. She began livestreaming to publicize tea picking and making in Liuduan. The traditional Yao costumes and cloud-shrouded mountains captured public attention and through Wang's efforts, the public began to buy the village's inexpensive and cheerful products, and incomes increased.
Online sales success didn't stop Wang from tapping into other resources in her hometown.
"We Yao have so many customs and so much traditional culture, so I thought why not develop rural tourism and raise the village's income further?" she said.
In February 2018, Wang started a culture and tourism development company. With local government support, she managed to turn folk customs and celebrations into tourist-friendly events. She put together bands that gave performances of Yao music and showcased the more intangible aspects of traditional culture to enhance visitor experiences.
In 2019, Wang arranged for traditional marriage rituals to be held in the tea terraces and put the whole performance online, drawing 7.9 million viewers.
This helped place Liuduan on the tourist map, and the village received more than 30,000 visitors that year.
Wang is one of the 2,500 young people to have returned to Jinxiu.
"Most young Yao have received higher education and know about technology, management and operations," said Wei Debin, Party secretary of Jinxiu. "They return to their hometown to work and start businesses, which play an important role in accelerating the development of the rural economy."
At the moment, Wang is busy promoting another of her home's natural treasures: mountain water.
"If we want to get rid of poverty, we must have industrial support. Only through industry can we ensure long-term development," she said.